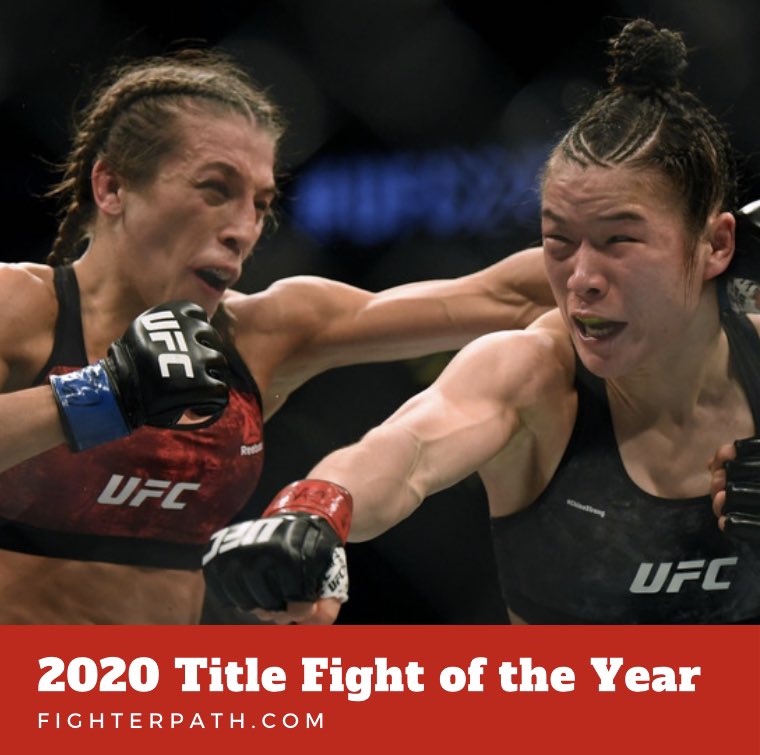 Winner: Weili Zhang vs Joanna Jędrzejczyk (UFC)
In what would go on to be the second last fight with an audience in 2020, Weili Zhang and Joanna Jędrzejczyk put on the greatest women's fight in UFC history. It would have been a travesty if this were to have taken place in an empty arena. Instead, over 15,000 people stood for 25 minutes while these women hit one another with over 350 significant strikes. More remarkably, the two threw nearly 800 strikes combined between the two. Zhang went on to defend her crown in a razor close decision that many had in favor of Joanna.
Jędrzejczyk was unrecognizable by the time the final bell rang with a hematoma. I have rewatched this fight multiple times since March, and I still have no idea who won the fight. Both fighters have yet to return to the octagon since that outing, but we can expect big fights for both when they return to action in 2021.
Runner-Ups:
Deiveson Figueiredo vs Brandon Moreno (UFC)
Juan Archuleta vs Patchy Mix (Bellator)
Petr Yan vs Jose Aldo (UFC)